Asking the right questions reduces the challenge in performance conversations.
Interview Training
Effective Performance Management
Effective Performance Management reinforces the continuous communication that managers need to have with their team members. This performance evaluation training helps managers optimize the results of their teams and ensure a high level of productivity for the organization.
Effective Interviewing!® increases your ability to hire top talent. But to retain that talent, managers need to establish expectations, provide clear feedback and be committed to each team member's success. Performance communication, whether it's casual or formal, requires continual re-evaluation and improvement on the manager's part to achieve a highly motivated team based on trust and accountability.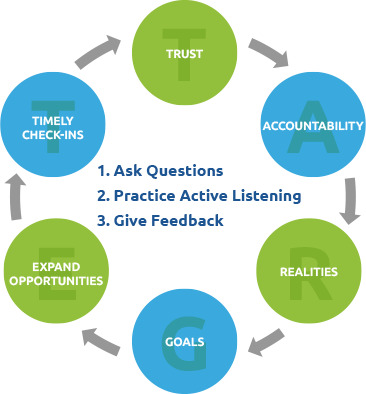 TARGET Your Coaching
Challenge and support your employees to build their skills and improve performance in a collaborative and results-driven way.

Highly Interactive Format
Practice the new interview techniques while receiving immediate feedback and view a live demonstration.

Additional Resources
Understand how personality differences influence communication styles by using our Assessment Profiles.
The performance evaluation training modules below may be selected to build a full-day or half-day session as needed.
Effective Performance Management Training Full-Day Summary
Overview of Performance Management
Understand how to use organizational values to drive and assess individual performance, and the connection between job competencies, goals, and results.
Fundamentals of Coaching
Learn the TARGET model of coaching to build empowering, ongoing, two-way communication that enhances commitment and improves productivity.
Motivating for High Performance
Identify the various types of performance, differentiate between intrinsic and extrinsic rewards, and learn how to motivate high and low performers.
Challenging Performance Conversations
Learn how to identify and deal with under-performance and take steps to conduct the difficult performance conversation.
Formal Performance Review
Apply key steps for effective performance reviews and discussions, and learn how to assess and describe performance in a constructive way.

This program has been approved for credit toward PHR, SPHR, and GPHR recertification through the Human Resource Certification Institute www.hrci.org.
"The adjustment to our group's needs was seamless – and a comfortable presentation style made concepts easy to follow."
- Sales Manager, Granite Construction
View All Testimonials