Success in a remote work environment requires successful virtual interviews.
Interview Training
Improve Virtual Interviews
Improve Virtual Interviews add-on module will enable you to effectively interview, evaluate and hire candidates remotely as many individuals continue to work outside an office setting. Virtual work and virtual interviews are now the 'new normal' of a distributed remote workforce. This 15 to 30-minute module builds on the virtual interview skills learned in Effective Interviewing!® and Advanced Effective Interviewing!®.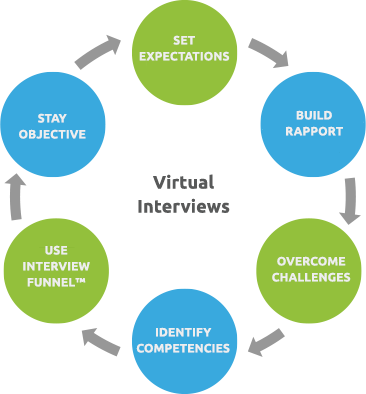 Tips for Virtual Interviewers
Maximize your remote work space.
Establish comfortable interview climate.
Use effective body language.
Ask conversational interview questions.
Check your unconscious biases.

Highly Interactive Format
Practice the new interview techniques while receiving immediate feedback and view a live demonstration.

Continuous Training Support
Reinforce your application of these skills after the seminar with one-year access to the HirePath® Online Interview Tools.
This module can be added to Effective Interviewing!® or Advanced Effective Interviewing!®
Summary of
Improve Virtual Interviews
Prepare and set expectations with candidates for an effective remote interview.
Maximize rapport and engagement with candidates in a virtual environment.
Set up a problem-free and productive interview and overcome any technical challenges.
Identify the additional behavioral competencies required for today's distributed remote workforce.
Review how the Interview Funnel™ contributes to drawing out candidates in a virtual setting.
Stay objective while evaluating candidates in a virtual interview.
Develop a team strategy to ensure all key areas are covered in a remote interview.
"The virtual one-on-one practice was a great way to learn an effective structured interview approach that works when hiring remotely."
HR Manager -Thermo Fisher
Client Success Stories