A competitive factor in business today is the quality of talent.
Interview Training
Advanced Effective Interviewing!® Training
Advanced Effective Interviewing!® is tailored for your organization to enhance and reinforce the skills learned in instructor-led Effective Interviewing!® or Effective Interviewing!® online training. This follow-up interviewer training is delivered as an instructor-led webinar or classroom training, and provides a practical way to embed the process within your organization. It enhances prior interviewer training with an opportunity for additional practice and review of specific interest areas as listed below.
Options for Advanced Effective Interviewing!® Training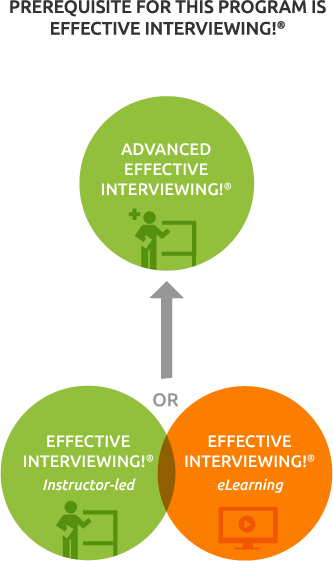 Review key concepts and techniques, and reinforce skills with more hands-on practice.

Reduce unconscious bias in your interviews.

Improve your virtual interviewing skills.

Enhance your technical interviews with behavioral questioning techniques.

Learn how to sell the job opportunity to the qualified candidate.

Handle challenging interview situations, such as the overly prepared or inauthentic candidate.

Apply advanced interview techniques to improve your phone screens and reference checks.

Optimize your use of HirePath® Online Tools to create custom job profiles, generate interview guides, and evaluate candidates.

Master advanced interview techniques with interview practice sessions while receiving immediate feedback.

Highly Interactive Format
Practice the new interview techniques while receiving immediate feedback and view a live demonstration.

Continuous Training Support
Reinforce your application of these skills after the seminar with one-year access to the HirePath™ Online Interview Tools.
"I now have a much better idea how to conduct a deeper interview, and the importance of selling the job to the candidate."
- Engineering Manager, MAHLE Industries, Inc.
Client Success Stories