Spend just two hours to learn the skills you need to interview anyone.
eLearning
Effective Interviewing!® eLearning
Effective Interviewing!® eLearning is a two-hour behavioral interviewing course completed at your own pace. This online interview training provides a complete process to identify required competencies for any position, ask in-depth interview questions by applying the Interview Funnel™ model, and make confident and accurate hiring decisions. This just-in-time training approach allows busy managers and professionals to access interview skills training wherever they work.
HirePath® Interview Tools
are included in this online interview training to reinforce newly acquired behavioral interviewing skills.
Topics covered in online interview skills training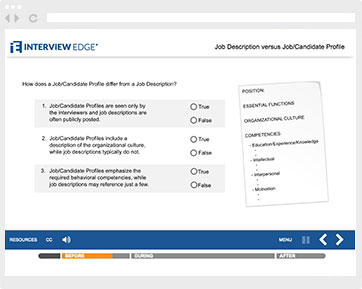 Section I – Before the Interview
Understand competency-based interviewing.
Apply behavioral competencies.
Determine job specific competencies.
Develop a Job/Candidate Profile.
Keep your interviews legal.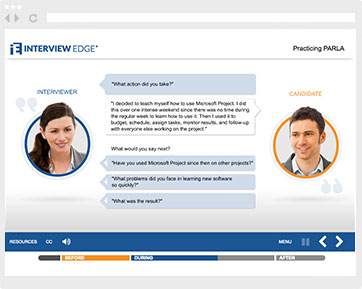 Section II – During the Interview
Utilize open-ended questions.
Optimize your Interview opening.
Apply Interview Funnel™ Model:

Topic-opener Questions
Accomplishment Questions
Self-appraisal Questions
Direct Competency Probes

Close the interview.
Review an interview example.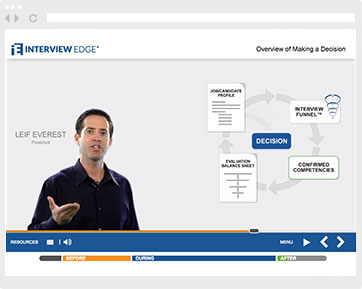 Section III – After the Interview
Use a candidate Evaluation Balance Sheet.
Apply key criteria to make final decision.
Reach consensus with an interview team.
Reinforcement of online interview skills training
Blended Learning
Enhance Effective Interviewing!® eLearning with a follow-up two-hour classroom practice session or webinar with one of our trainers.
Coaches' Training
Reinforce Effective Interviewing!® eLearning within your organization by certifying your key interviewers or recruiters as coaches to facilitate classroom practice sessions.
Online Interview Training Benefits

Cost
Online learning costs less than a traditional in-person seminar.

Convenience
Learn interview skills when you want and at your own pace.

Interactive
Interview skills training exercises engage you and keep your interest.

Examples
Audio and video examples demonstrate what is taught.

Appealing
Illustrations elaborate the concepts in an entertaining fashion.

Intuitive
Concepts are explained in a straight forward and easy-to-learn manner.

Reinforcement
Allows you to continually apply what you learned with online interview tools.

Accountability
Completion certificate and final quiz score are viewed by your administrator.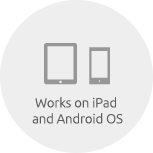 This program has been approved for credit toward PHR, SPHR, and GPHR recertification through the Human Resource Certification Institute www.hrci.org.