Selling the opportunity to top candidates means having the right message.
Interview Training
Selling Today's Candidates
Selling Today's Candidate will improve your ability to recruit and hire top talent in a competitive market. Selling the right candidate on a job opportunity requires the same level of planning and focus as the interview. Today's candidates draw on new as well as traditional values in considering your offer. The successful application of candidate-focused selling techniques requires understanding a candidate's values and motivation. You will learn how to develop and apply these techniques in this advanced seminar, which builds on the skills learned in Effective Interviewing!®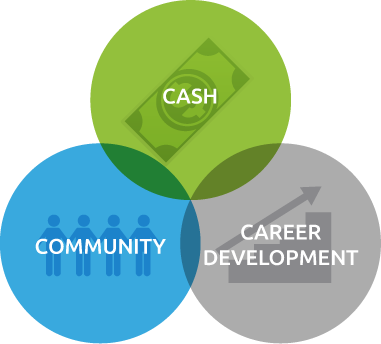 Three Paychecks
To convince the right candidate to join your organization, consider relating potential opportunities to the "Three Paycheck Formula." Try to use all three paychecks, but if you can't compete on one, then emphasize the other two paychecks.

Highly Interactive Format
Practice the new interview techniques while receiving immediate feedback and view a live demonstration.

Continuous Training Support
Reinforce your application of these skills after the seminar with one-year access to the HirePath® Online Interview Tools.
Selling Today's Candidate Two-Hour Summary
In this fast-paced interactive session, you will learn how to:
1Apply principles of Effective Selling
2Sell Your Organization to the Candidate
3Create Personalized Selling Messages
4Use Probing Questions to Discover Candidate's Motivation
5Identify Selling Opportunities
6Sell to Candidate's Competencies
7Overcome Objections and Concerns
8Address Negatives in a Positive Way
9Convince the Skeptical Candidate
10Develop a Team Strategy

This program has been approved for credit toward PHR, SPHR, and GPHR recertification through the Human Resource Certification Institute www.hrci.org.
"I found the process of using a candidate's answers to develop new selling questions and identify motivational hot buttons very useful."
- Vice President, Morgan Stanley
View All Testimonials