We provide competency-based behavioral interviewing training for interview teams including hiring managers, recruiters, and interviewers.
INTERVIEW EDGE • APRIL 2008
How Credit Checks Can Be Used in Hiring
In today's interconnected world, it often feels like everyone has access to your credit history. But when it comes to using credit information for hiring decisions, there are strict legal restrictions in place.

Credit checks in the hiring process must be directly related to the job at hand. This means that employers should limit inquiries to candidates whose roles involve access to classified information, control over substantial financial resources, or influence over client investments. In essence, the primary concern is the candidate's trustworthiness, especially when handling sensitive data or financial matters. Credit checks are not a blanket requirement for every job; they must be tailored to specific job roles.

However, even when credit checks are justifiable, there are stringent guidelines that employers must follow. One of the key requirements is obtaining informed consent from the job candidate. This consent should be in writing, and the candidate must be fully aware that a credit check will be conducted. Additionally, the credit reporting agency responsible for the check must also be notified of the candidate's authorization. Transparency is crucial in this process, and employers must make sure candidates are well-informed about the credit check.

In the event that a candidate is denied employment based on the information in their credit report, there are further steps that must be taken to ensure fairness and compliance with the law. The candidate must be provided with a copy of the credit report that influenced the decision. This ensures that candidates have the opportunity to review the information that led to their rejection and address any discrepancies.

It's important to note that bankruptcy should not automatically disqualify a candidate from employment. The laws surrounding credit checks prioritize a fair and non-discriminatory hiring process. Employers must consider the context and relevance of the financial information in making their hiring decisions.

Given the complexities of these legal requirements, it is advisable for employers to seek legal counsel or guidance from their state Chamber of Commerce before conducting any credit checks in the hiring process. These regulations can vary from state to state, so it's crucial to stay up-to-date with the specific laws that apply to your jurisdiction. Ensuring compliance not only protects the rights of job candidates but also shields employers from potential legal consequences.


Ready To Discuss Interviewer Training?
More Resources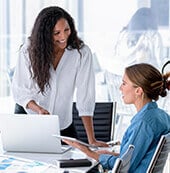 Here are some quick tips from our interview training seminar to help you conduct a successful interview. We recommend that you complete the first three steps before the interview.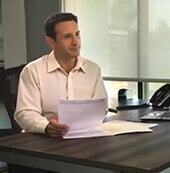 Most of us have experienced the interview from the candidate's perspective. But how often do we have an opportunity to evaluate the interviewer?
Client Login
When you login to HirePath® Interview Tools or Effective Interviewing!® Online Learning, you accept the Terms and Conditions Policy, and acknowledge that this user account is for your individual access only.
Request Password
An email has been sent to you with instructions on how to reset your password.
Effective
Interviewing!®
Elearning
and Hirepath®
Interview Tools
Thank you for completing the form.
Click below to make your selection.
Interview Edge, Inc. Terms & Conditions Policy
Copyright
The entire content of this website, including but not limited to text, graphics, logos, images, and multimedia, is the exclusive property of Interview Edge, Inc. and is protected by U.S. and international Copyright laws. You may print portions of this content solely in connection with your use of the services provided on this website as an information resource. Unauthorized duplication or redistribution of this content may violate Copyright, trademark and other laws.
Disclaimer
We provide the website on an "as is" and "as available" basis and without warranty or condition of any kind, express or implied. Each user agrees that use of the website is at the user's sole risk. We reserve all right to limit, restrict or terminate access to the website for no reason or any reason whatsoever, including, without limitation, if we believe that user conduct violates applicable law or is harmful to the interests of Interview Edge, Inc. or our clients.
Interview Edge, Inc. PRIVACY POLICY
Interview Edge, Inc. is committed to protecting the personal information of all visitors to this Website. This Privacy Policy covers how we collect, use, disclose, transfer, and store your personal information.
Use of personal Information
We only collect and use personal information as needed to provide Interview Edge, Inc.'s legitimate interests to conduct business in connection with our training products and services. Our Privacy Policy is intended to describe the information you provide, how we use and share that information, and your rights. Your use of our Website services constitutes your consent to the current version of the Privacy Policy.
Information you provide us
We receive personal information from Website users who submit information directly, such as when they request our training services or register for our online learning. This information typically includes name, company, phone and email address. We may also collect mailing address and phone number for contracts and billing.
How we use the information
We are committed to personal data minimization and limiting use to those processing activities for which consent was given. We use the personal information you provide as necessary to deliver our products or services, or as required for legal compliance or other lawful purposes. We use your personal information to register you for our online user accounts and to directly communicate with you via email or phone. We take reasonable steps to ensure that personal data is accurate, complete, current, and reliable for its intended use.
Information we share
We do not sell, trade, or otherwise transfer to outside parties your personal information. We may share information we collect from Website users with our service providers who help us perform services, such as administering our Website. We permit our service providers to use personal information as needed to deliver services or comply with applicable laws and regulations. We enter into contract with third-parties to keep information confidential prior to sharing personal data. In limited cases, we may share information with other parties if appropriate to respond to your specific request or inquiry. We may share personal information if we have a good faith belief that doing so is necessary to comply with applicable laws, respond to a legitimate request from law enforcement or other government body, to protect our interests or the health and safety of others, or to enforce our terms of use for this Website.
Security
We take reasonable and appropriate measures to protect personal information from loss, misuse and unauthorized access, disclosure, alteration and destruction, considering the risks involved and the nature of the personal information.
Your choices, access and rights
You may have the right to request access to, a copy of, rectification, restriction in the use of, or erasure of your information in accordance with all applicable laws. The erasure of your information shall be subject to applicable state and federal laws. You may visit and browse our Website without providing any personal information, and you can choose not to provide us with the personal information we request. However, choosing not to provide us with certain information that we request may prevent you from accessing or using certain portions of our Website. Upon request, Interview Edge, Inc. will provide individuals with reasonable access to their personal data, and in doing so allowing individuals the opportunity to correct, amend or delete personal data where it is inaccurate, or has been processed without your consent. A request may be denied under certain circumstances, such as where the burden or expense of providing access would be disproportionate to the risks to the privacy of the individual in the case in question, or where the rights of persons other than the individual would be violated.
Our contact information
If you have any questions or concerns about our privacy practices described above, you may reach us at:
Email: support@interviewedge.com
Phone: +1 415.459.4800