We provide competency-based behavioral interviewing training for interview teams including hiring managers, recruiters, and interviewers.
INTERVIEW EDGE • JUNE 2010
Interviewing Millennials Entering the Workforce
Many employers struggle to adapt to the Millennial generation (also known as generation Y). Getting to know Millennials better can help you prepare for them in the interview and in the workplace.

Who They Are

The Millennial generation includes those born between 1980 and 2000. Formed by the Internet, hands-on parenting, and multiculturalism, the Millennials have a lot going for them.

Here's a look at the strengths of millennials entering the workforce.

• Productivity. Text messages, tweets, and social networks – the foundation of Millennial life – may pay dividends in the workplace. Adept at 140-character communication, Millennials have an advantage over older workers still bogged down in older technologies. Millennials' ability to prioritize, optimize and above all, communicate succinctly, may eventually mean the end of unproductive meetings and phone calls.

• Networking Skills. Growing up with email and cell phones keep Millennials constantly plugged into a network of family and friends, fostering the desire – and ability – to work collaboratively and within teams. And because Millennials also grew up in an increasingly open and multicultural society, they tend to be more inclusive than their predecessors.

• Ambition. Many Millennials entering the workforce bring a set of defined goals to the first day on the job. With influences like role-playing video games – where ordinary players accomplish difficult feats through strategy and foresight – it's easy to see that they would expect similar, real-world challenges. Further, women now outnumber men as college graduates and the number of women with ambitions for a professional career has never been higher.

•Entrepreneurial. Research from JWT Worldwide indicates that more than a quarter of Millennials would start their own business if they were laid off or had trouble finding a job. And more than a third say they have friends who are doing interesting, entrepreneurial things to make more money.

But Millennials also have their limitations:

• Lack of commitment. The newest generation tends to put family and friends first. Faced with a choice between working long hours to build a career and socializing, at least some Millennials are likely to choose the latter. In the same way, Millennials are reluctant to let their jobs define them. For many Millennials, work is simply a way to support an attractive lifestyle. This tends to foster a free agent mentality that's always on the lookout for the next best offer.

• Overconfident. Doting parents willing to advocate on their behalf and a lifetime of often-undeserved praise have given many Millennials a false sense of confidence. But that can quickly dissipate when they're reprimanded or challenged, and some may lack the fortitude and independence to stand on their own. On the other hand, Millennials entering the workforce aren't above questioning higher-ups when it suits them.

Interviewing Millennials

Given all this, what's the best way to deal with Millennials? First and foremost, it's important to seek Millennial candidates who are committed, hard working, and motivated. We suggest the following:

• Use questions that elicit information about candidates' level of dedication in the past. For instance, ask when they showed a commitment to great service or exceeded their boss's expectations. Candidates who can give credible examples are more likely to be motivated by results than by a paycheck.

• Follow up with questions about motivation, such as, "What in this job will sustain your interest and motivation?" This allows candidates to give an honest assessment of their buy-in to your organization and where they see themselves fitting in long term.

• Additional questions should focus on potential liabilities. Does the candidate seem to lack confidence, independence, or a willingness to work hard? If so, ask for specific examples that demonstrate those traits. Candidates who have trouble citing quality examples might not be the best fit for your organization.

• Be careful how your organization presents itself during the interview process. Millennials may be turned off by stressful interviews or an overbearing line of questioning. And be straightforward with candidates; Millennials expect candor.

Each generation offers a unique set of talents and limitations in the workforce – the Millennials are no exception.
Ready To Discuss Interviewer Training?
More Resources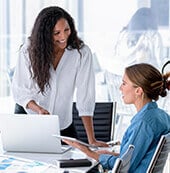 Here are some quick tips from our interview training seminar to help you conduct a successful interview. We recommend that you complete the first three steps before the interview.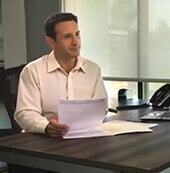 Most of us have experienced the interview from the candidate's perspective. But how often do we have an opportunity to evaluate the interviewer?
Client Login
When you login to HirePath® Interview Tools or Effective Interviewing!® Online Learning, you accept the Terms and Conditions Policy, and acknowledge that this user account is for your individual access only.
Request Password
An email has been sent to you with instructions on how to reset your password.
Effective
Interviewing!®
Elearning
and Hirepath®
Interview Tools
Thank you for completing the form.
Click below to make your selection.
Interview Edge, Inc. Terms & Conditions Policy
Copyright
The entire content of this website, including but not limited to text, graphics, logos, images, and multimedia, is the exclusive property of Interview Edge, Inc. and is protected by U.S. and international Copyright laws. You may print portions of this content solely in connection with your use of the services provided on this website as an information resource. Unauthorized duplication or redistribution of this content may violate Copyright, trademark and other laws.
Disclaimer
We provide the website on an "as is" and "as available" basis and without warranty or condition of any kind, express or implied. Each user agrees that use of the website is at the user's sole risk. We reserve all right to limit, restrict or terminate access to the website for no reason or any reason whatsoever, including, without limitation, if we believe that user conduct violates applicable law or is harmful to the interests of Interview Edge, Inc. or our clients.
Interview Edge, Inc. PRIVACY POLICY
Interview Edge, Inc. is committed to protecting the personal information of all visitors to this Website. This Privacy Policy covers how we collect, use, disclose, transfer, and store your personal information.
Use of personal Information
We only collect and use personal information as needed to provide Interview Edge, Inc.'s legitimate interests to conduct business in connection with our training products and services. Our Privacy Policy is intended to describe the information you provide, how we use and share that information, and your rights. Your use of our Website services constitutes your consent to the current version of the Privacy Policy.
Information you provide us
We receive personal information from Website users who submit information directly, such as when they request our training services or register for our online learning. This information typically includes name, company, phone and email address. We may also collect mailing address and phone number for contracts and billing.
How we use the information
We are committed to personal data minimization and limiting use to those processing activities for which consent was given. We use the personal information you provide as necessary to deliver our products or services, or as required for legal compliance or other lawful purposes. We use your personal information to register you for our online user accounts and to directly communicate with you via email or phone. We take reasonable steps to ensure that personal data is accurate, complete, current, and reliable for its intended use.
Information we share
We do not sell, trade, or otherwise transfer to outside parties your personal information. We may share information we collect from Website users with our service providers who help us perform services, such as administering our Website. We permit our service providers to use personal information as needed to deliver services or comply with applicable laws and regulations. We enter into contract with third-parties to keep information confidential prior to sharing personal data. In limited cases, we may share information with other parties if appropriate to respond to your specific request or inquiry. We may share personal information if we have a good faith belief that doing so is necessary to comply with applicable laws, respond to a legitimate request from law enforcement or other government body, to protect our interests or the health and safety of others, or to enforce our terms of use for this Website.
Security
We take reasonable and appropriate measures to protect personal information from loss, misuse and unauthorized access, disclosure, alteration and destruction, considering the risks involved and the nature of the personal information.
Your choices, access and rights
You may have the right to request access to, a copy of, rectification, restriction in the use of, or erasure of your information in accordance with all applicable laws. The erasure of your information shall be subject to applicable state and federal laws. You may visit and browse our Website without providing any personal information, and you can choose not to provide us with the personal information we request. However, choosing not to provide us with certain information that we request may prevent you from accessing or using certain portions of our Website. Upon request, Interview Edge, Inc. will provide individuals with reasonable access to their personal data, and in doing so allowing individuals the opportunity to correct, amend or delete personal data where it is inaccurate, or has been processed without your consent. A request may be denied under certain circumstances, such as where the burden or expense of providing access would be disproportionate to the risks to the privacy of the individual in the case in question, or where the rights of persons other than the individual would be violated.
Our contact information
If you have any questions or concerns about our privacy practices described above, you may reach us at:
Email: support@interviewedge.com
Phone: +1 415.459.4800